Ed Perry
U.S. Army Aircorp,
American Ex-Prisoner of War
European Theater


Tuesday April 18th
Recalling World War II - One Personal Experience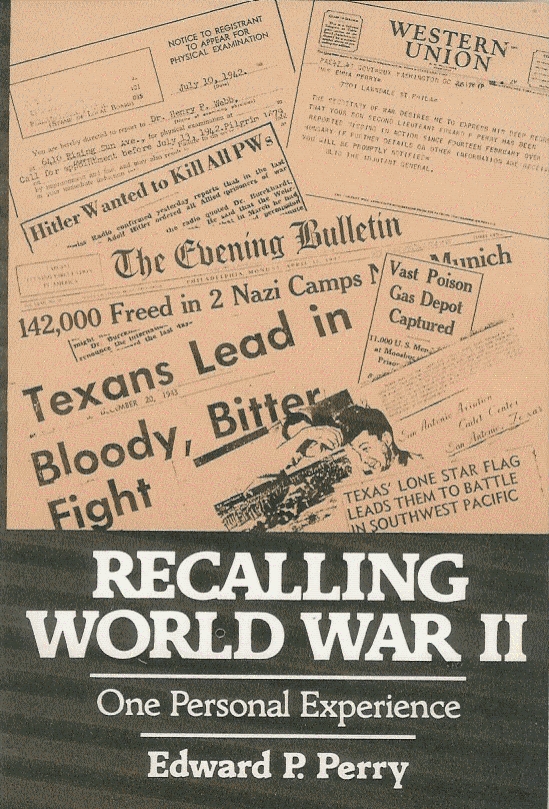 This talk is from the book by Ed Perry published in 1992. It is not your typical WWII reminiscence. Minus all the rah-rah rhetoric and high-flown patriotic mumbo-jumbo, it presents a truer picture of the average GI's daily existence than we typically see. Like so many others who had been in combat, upon return to home I systematically destroyed all reminders of the war - letters, cards, service manuals, etc. - just about every memento I could get my hands on. Even burned were the letters written during the war to my new postwar wife. I guess Ann will never forgive me for that foolish act. Little did I realize my parents had saved every note, postcard, newspaper clipping, and letter (336 of them) sent home. Also saved was the small notepad used to summarize combat missions flown and my pilot-rating book. These were included with my other personal effects sent home from Italy. Typed up and also placed away was my "toilet paper" diary. Unusual thing about German toilet paper, if what I hear is correct. I understand a very coarse bathroom tissue, by our standards, is still used over there. I'm sure it can't be as tough as the stuff we were given, but if it is, I'm surprised German technology hasn't caught up to the situation. . The large cardboard carton into which all the above was placed came into my possession . some thirty-four years after the war.