National Heritage Foundation



Click here to download an I Care America Foundation Application


Click here to download a War Veterans Family Foundation Application

Veterans History Project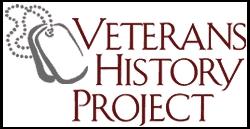 Grass Roots: War Stories by Reader's Digest

We would like to thank the following national organizations:

American Defenders of Bataan and Corregidor


Click here to download the ADBC Membership Form
American Ex-Prisoners of War

American Folklife Center

American Legion
American Local History Network

American Historical Association
American Merchant Marine Veterans
Association of Personal Historians


Click here to download the APH Membership Form
Aviation History Magazine

Center of Military History
China-Burma-India Veterans Association
Combat Vets
Copyright Office
Department of Veterans Affairs
Destroyer Escort Sailors Association
Disable American Veterans

Eastern Paralyzed Veterans Association
Eighth Airforce Historical Society


Click here to download the National Membership Form

Click here to download the Pennsylvania Membership Form
French Consulate
Gulf II Casualties Foundation

History Channel Magazine
I Care America Foundation
I Power Web
International Oral History Association
James Justin Oral History Center
James Justin Museum
James Justin Museum of Military History
Japanese American Veterans Association
Jewish War Veterans

Library of Congress

Marine Corps League

Military Oral History Collection

Military Order of the Purple Heart

National Archives and Records Administration

National Association of Civilian Conservation Corps Alumni


Click here to download the NACCCA Membership Form
National Council on Public History

National D-Day Museum

National Flag Foundation

National Heritage Foundation

National WWII Glider Pilots Association

National WWII Memorial


... see the construction of the National World War II Memorial in Washington D.C.
Naval Historical Center
Naval Historical Foundation

Naval History Magazine

Naval Institute Foundation

Naval Institute Press

Navy League
Oral History Association
Oral History Review
Organization of American Historians
Pearl Harbor History Associates, Inc.


Click here to download the PHHA Membership Form
Pearl Harbor Survivors
Pearl Harbor Survivors Association
Preserve America
Registry of Remembrances
Society of American Archivists
Stories of Service
Tank Books
The Company of Military Historians
The History Channel
The Reserve Officers Association
The Static Line Magazine
Tin Can Sailors Association
University of California Press
U.S. Army Military History Institute
U.S. Naval Institute
Veterans History Project
Veterans of Foreign Wars
Veterans of the Battle of the Bulge Association


Click here to download the VBOBA Membership Form
War Veterans Family Foundation
War Veterans Oral History Project
WHYY Inc.
Wisconsin Stories
World War II Magazine
World War II Veterans Website



We would like to thank the following local organizations:

Abington Public Library
Air Victory Museum

American Preferred Services

Battleship New Jersey

Bergen Record

Brookdale Community College

Brown Wealth Strategies

Bucks County Public Library

Burlington County Times

Center for US War Veterans Oral Histories

Center for World War II Studies and Conflict Resolution
Chi Chi Press

Child Survivors of the Holocaust
Courier Post
Evangelical Services for the Aging Foundation
Glenside Life
Glenside News
Grade-A Video Productions
Holy Trinity Evangelical Lutheran Church

Home Port Alliance

Keystone Foods

Mid Atlantic Air Museum

Montgomery County Record

Montgomery Newspapers

National Guard Militia Museum of New Jersey

New Jersey Department of Military and Veterans Affairs

Pennsylvania Cable Network
Pennsylvania Department of Military and Veterans Affairs
Pennsylvania Humanities Council
Philadelphia Inquirer
Philly Burbs
Philly News

Thwaprs Company

Times Chronicle

USS New Jersey Veterans Inc.



Archives


Membership Applications Archive

... membership applications for various organizations


Museums Archive

... read reviews of World War II and Holocaust museums